I have to say...this wedding has been a breeze. The hardest part for me has been the waiting between the getting things done. I knew exactly what I wanted months ago but no money to pay for it. Now, we've started paying people for their services. Which has been a major relief to me.
We paid for the venue yesterday. And I almost cried with joy and excitement while we were there. I love my venue. Here are some pics...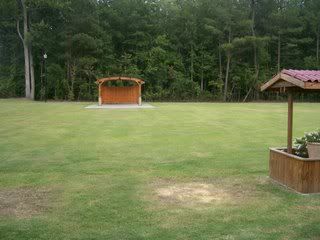 We also paid Occassions for our linens, flowers, and rented items. It was nice to get that taken care of, too. The venue and the rental company/florist were two of my more major vendors that need to be paid as early as possible.
Next it's the bakery, officiant (once I make up my mind), DJ (when I find one), and that's it with the major stuff.